Efficient Digital Learning Methods Utilizing ScanSnap and Goodnotes
Goodnotes is a note-taking app which is extremely popular with iPad, iPhone, and Mac users. Handwritten notes can be created using your finger or a touch stylus pens, and you can also load PDF and other files or images to write notes.
Meanwhile, ScanSnap is a scanner that can digitize paper-based books. By cutting a paper book and scanning it all at once, you can convert it into a PDF to carry it around on your preferred form of digital media. Since it has been turned into a PDF, you can also use Goodnotes to write notes.
Utilizing Goodnotes and ScanSnap enables you to study anywhere without paper or location restrictions.
The following are interviews with two users who established digital study methods combining Goodnotes and ScanSnap.
1. Revolutionary, ultra-high efficiency study method of "Dasman" (medical student)
Dasman (screen name) is a sixth-year student attending a Japanese medical university*. After sharing on Twitter how she studies PDFs of her textbooks scanned with ScanSnap while looking at her iPad, her method has attracted the attention of not only other medical students but also students in other fields.
* As of 2020. Currently, she is active on social media under the name "Tokumizu Mei."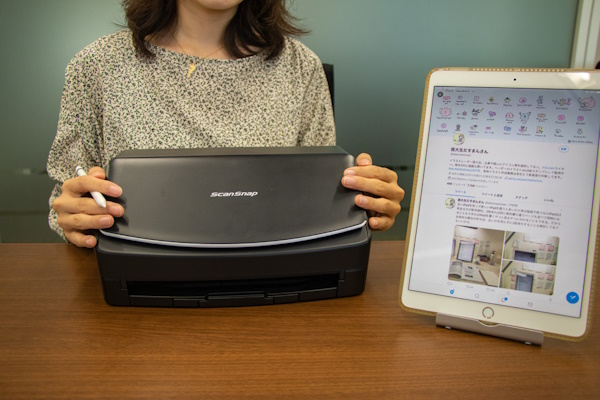 Realizing location-independent, flexible studying with ScanSnap
Dasman scans her textbooks and loads them onto an iPad. Over six years in medical school, the students study all of the medical departments, so they use many textbooks. Since the National Medical Practitioners Qualifying Examination covers all of the medical departments, they must master all of their textbooks.
Dasman explains, "Frequently referring to other books in order to understand one description deepens your understanding and resolves any questions, so it is helpful to have all of your books on hand at all times.
However, since it is not practical to carry around all of your textbooks on a daily basis, it limits where you can study, and many medical students have to check passages that they are concerned about once again after they get home. I myself have experienced such inconveniences in the past. However, now I convert my textbooks to PDF files with ScanSnap, so I can view all of my books anywhere at any time as long as I have my iPad."
"What I thought was amazing about ScanSnap is its ability to smoothly scan even my worn out textbooks. Even though they were filled with scribbled notes and held together with washi tape, I was surprised at how it was able to realistically scan them without any problems. Thanks to converting various texts into PDF files, I was able to study hard while studying overseas for a short time with just my iPad, and when a medical school prep student I am tutoring asks me a question, I can explain by showing them my notes from my own entrance exam days. I can even engage in serious study on the bullet train. What more can I say?"
Opening the same textbook page on multiple iPads definitively increases study efficiency
Dasman's study method involves looking at the PDF of a textbook scanned with ScanSnap mainly on an iPad and directly writing notes with the "Goodnotes" handwritten note app for the iPad.
She explains, "Scanning with ScanSnap is essential to make it possible to take notes and immediately jump to a different page. To tell the truth, many textbooks are also published as electronic books. That's fine if you are just going to read them, but sometimes you are unable to write notes and in some cases the editing format is difficult to use, which prevents you from immediately jumping to the desired location in the book. I purchased some and went through a process of trial and error. However, the more pages that a book had the more inconvenient it felt, and I concluded that it was "impossible" to study with electronic books. In that regard, with a simple PDF, you can instantly jump to the desired location from a thumbnail image and take notes with Goodnotes."
In addition, the use of two iPads is also a key point.
"For example, when solving a problem listed in the textbook, usually the page where you write the answer is separate from the explanation page. Therefore, you can compare your answer with the explanation while flipping back and forth on one screen. However, if you open different pages from the same book on two iPads, you can write the answer on the first iPad, read the explanation on the second one, and then look at that while writing notes on the first device. Your studies progress at an amazing speed. It felt like my efficiency doubled."
When studying on paper, it is physically impossible to open several different pages from the same book, but with digitization it becomes feasible. The notes written with Goodnotes are automatically overwritten as soon as they are written.
Dasman explains, "The synchronization speed is really fast, so once the notes are written on one iPad, they instantly appear in the same file which is open on the second iPad, and the same thing occurs when you erase text. That file is synchronized even if you open it on an iPhone or a notebook PC, so you can just take your iPhone with you when you go out to eat, and you can smoothly switch from the iPad to iPhone when studying on a crowded train. Goodnotes can also easily paste document images, etc., so I was using it instead of handwritten notes before introducing ScanSnap."
ScanSnap's contribution to medicine
Dasman hopes to utilize ScanSnap not only for studying but also for patients.
"All knowledge exists for the purpose of accurate diagnoses and the appropriate medical treatment, and if you forget something or make a mistake in even one aspect, it has a real impact on the life expectancy of a patient. For that very reason, making the books I scanned with ScanSnap available for viewing on an iPad is meaningful. The study of medicine is not over once you pass the national examination, because it really starts once you become a doctor. You cannot imagine how much of a help it is to quickly review a textbook description or some information that you read in the latest book when you feel a little bit lost. The scanned data will help you out for the rest of your life. This is not a joke, I believe that ScanSnap can be said to be truly saving lives."
2. Digital study techniques of nurse "Haru"
"Haru" (screen name) is an active duty nurse living in Japan who uses her popular presence on Instagram, Twitter, and note* to publish her digital learning methods and episodes from the front lines of medicine. Most notably, Haru's Instagram account, where she posts many messages related to digital studying, managed to attract 24,000 followers (as of May 2020).
* "note" refers to a media platform service from note inc. that is available in Japan.
Writing and pasting on an iPad to create beautiful notes that look like printed materials
Haru publishes many handwritten notes on Instagram. The contents are very professional and cover topics such as "drain and tube management" and "the structure and circulation of the heart." The beautiful and easy-to-read text and skillful illustrations give a soft impression, and the content is edited in a way that makes it clear in your mind when you read it.
Some of these notes are handwritten on paper, but many of the recent examples are the results of digital studying in which Haru writes on an iPad to create the notes.
Haru explains, "Now, I mainly use Goodnotes to write notes on my iPad. When creating digital notes from scratch, for the most part I use Goodnotes."
Haru uses the Apple Pencil digital pen. Combining Goodnotes with the Apple Pencil, Haru writes text, lines, and illustrations on the iPad screen.
With the introduction of this digital approach, Haru's studies made a huge leap forward.
"Investigating things on my own and then steadily changing and editing the material in an intuitive manner is a really important part of my study method. In addition, I can do it so much more efficiently than with analog methods. You can erase something you have written or paste materials retrieved from the Internet in an instant."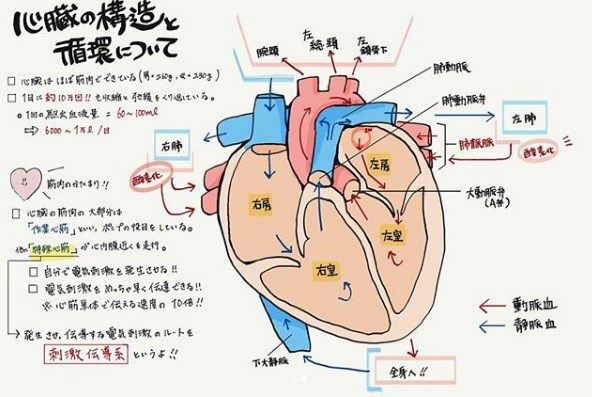 Smoothly converting books for reference to PDF with ScanSnap
Along with note creation, the core of Haru's study method is looking at and reading the books which are the study materials. If these materials are in the form of digital data rather than paper-based books, one can concentrate on the content without bothering to turn the pages or put them somewhere, which makes studying significantly more efficient.
Haru purchases books that are available as electronic books in that format, but because the numbers are limited, many books are obtained in printed form. To adapt those books for digital study, they are cut, scanned with ScanSnap, and converted into PDF files.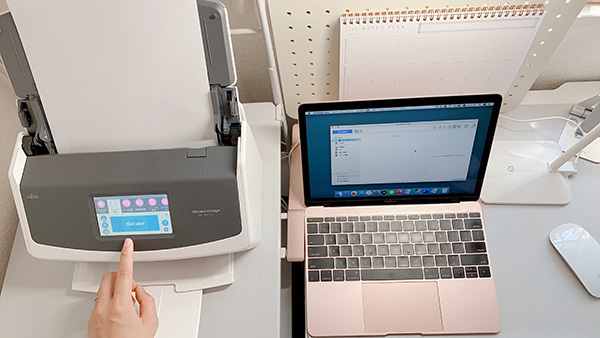 Haru explains, "ScanSnap is extremely useful for streamlining work and viewing as well as converting documents to data. After all, the ability to digitize analog media increases the number of choices in studying and my future life, so I hope to make use of it not only in my studies."
When studying while browsing digitized and electronic books, Haru uses an iPhone.
"These days, my standard approach is to display a textbook or other book on the iPhone screen and set the iPad to the notes screen to study. In the beginning, I thought it would be better to use the iPad split view feature to divide the screen in two with the book on one half, but even the iPhone is big enough for browsing, so now I study like this except when I only have the iPad on hand."
The goal of studying with digital methods
In any line of work, balancing business and studying is difficult. Digital studying seems to be a powerful way to achieve that balance.
"Medicine is rapidly evolving, so you are expected as a nurse to constantly absorb knowledge. Studying is also part of a nurse's job. Naturally, the front lines are not like a test as there is no visible score, but I was able to establish my own study method, so after that it is a matter of how I digest the material. I always consider the idea that "you must not stop at simply understanding as it is meaningless if you cannot apply it in clinical practice" and will continue to keep this in mind going forward. However, at any rate, not feeling any stress when studying is a truly significant development. It is very helpful. Studying enables me to provide the appropriate nursing care to patients, keep things running smoothly with the other staff members, improve the workplace environment, and in turn make myself a better person. That is my hope."
| | |
| --- | --- |
| * | Please note that your use of the electronic data generated by using ScanSnap may be restricted by certain intellectual property rules including, but not limited to, copyright laws and regulations in your jurisdiction and worldwide. Please comply with any and all laws and regulations applied to your use of ScanSnap and the generated data. |
| * | ScanSnap is a registered trademark of PFU Limited in Japan. |
| * | Mac, iPad, iPhone, and Apple Pencil are trademarks of Apple Inc., registered in the U.S. and other countries. |
| * | TWITTER is a registered trademark of Twitter, Inc. and/or its affiliates. |
| * | GOODNOTES is a trademark or a registered trademark of Goodnotes Limited. |
| * | Product names and company names are the registered trademarks or trademarks of the respective companies. |