FUJITSU Image Scanner fi-6800
Overview
The ideal blend of features and performance to maximize scanning productivity
With improving the entire scanning process as its main objective, the fi-6800 Production Scanner builds upon the qualities that have made Fujitsu the industry-leading vendor in the Mid-Volume Production market. The fi-6800 incorporates many additional features and functions that will improve your document scanning efficiency. From pure scanning speed, to ease of use to its full suite of software productivity tools, the fi-6800 is the ideal solution for a wide range of Production Scanning applications.
Fast, 130 ppm (simplex) / 260 ipm (duplex) scanning in monochrome or color (letter, landscape @ 300 dpi)
Space-saving design with quiet operation and many environmental friendly qualities
Easy to use operator panel with multi-language support
Triple Ultrasonic Double Feed Detection with Intelligent MultiFeed/Function and retain image feature
500-page automatic document feeder with adjustable height hopper
Scanner Central Admin Suite
Comes with 2D Barcode for PaperStream
Comes with PaperStream IP, PaperStream Capture and PaperStream Capture Pro as an option.
Maintain optimal up-time and peak performance with Fujitsu service and support

Datasheet (5.17 MB)
Features
Incredibly productive, remarkably small and highly versatile
With a set of features developed from decades of industry-leading experience and based directly on customer feedback, the fi-6800 Production Scanner can help digitize large volumes of documents with ease. With blazing fast 130 pages per minute and true double-sided scanning speeds of 260 images per minute, in color, grayscale or black & white and up to 300 dots per inch (dpi), rest-assured the fi-6800's pure scanning speed certainly will not be the bottleneck in your scanning operation. Good things come in small packages and the fi-6800 delivers production level scanning speeds, yet without the sacrifice of a large exterior design. With its small footprint and quiet operation, the fi-6800 is suitable for in front-office environments and desktops where traditionally a Production Scanners' bulkiness and loud operation was unrealistic.
The fi-6800 functionality makes it appealing for a wide range of document scanning applications and markets. With dynamic color dropout it is ideal for forms processing applications such as Healthcare insurance forms with a red color background. Or with Paper Protection which helps avoid potential physical damage to original documents for scanning historical records in Government. Or any combination of these industries for Service Bureau's who scan a diverse range of documents, the fi-6800's versatility makes it ideal for all Production Scanning requirements.
130 ppm/ 260 ipm in monochrome or color up to 300 dpi (landscape)
Includes PaperStream IP (TWAIN/ISIS) and PaperStream Capture
Automatic intelligent image correction for decreased document preparation (Auto orientation, auto color detection, intelligent blank page detection, background smoothing)
Document Protection to prevent potential damage to documents
Excellent paper feeding of mixed documents of various sizes, shapes and colors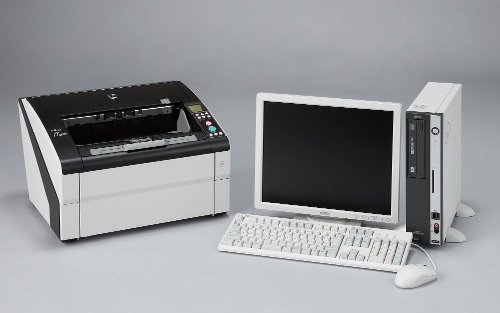 Production Scanning has never been easier
The fi-6800 Production Scanner was built to perform but it doesn't end there. Making Production Scanning easy is one of the main appeals of the fi-6800. Even before scanning begins, the scanner operator can simply set a few user operator preference options directly from the LCD Operator Panel such as language, alarm volume, blink cycle, contrast and other options so that scanning is performed in their ideal comfort-zone. A large 500 page automatic document feeder ensures that processing volumes of batches can be done quickly without constantly reloading the paper input tray. Three Ultrasonic Double-Feed Detection sensors with Intelligent MultiFeed Function (iMFF) ensure that each image is captured without exception by detecting when two unintentional documents enter the feeder at the same time, yet affords the flexibility to capture intentional overlapping items such as sticky-notes attached to documents. Independently adjustable side trays makes input of batches easy and extremely efficient and controlled paper output speed with an Active Stacker helps keep the documents neat and orderly when returning batches to storage boxes or cabinets.
Intuitive LCD operator panel (Multilanguage, Alarm Sound, Volume, Contrast and more)
Space-saving design and quiet operation for office environments
Independently adjustable side input guides and Active Stacker
Large capacity 500 page automatic document feeder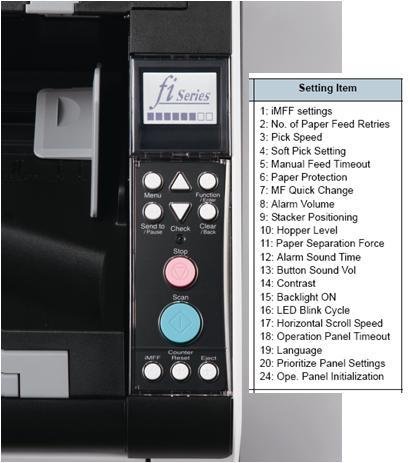 Automatically creates high quality images without manual adjustments
The PaperStream IP driver takes the work out of image cleanup when scanning invoices, ID cards, receipts, forms, or any other day to day paperwork. PaperStream IP automatically improves the image quality, removes unwanted backgrounds, and optimizes your scanned images for optical character recognition. It is fast and easy to use. Our latest innovation, Assisted Scan, allows users to replace poor images by visually selecting the image they lack rather than learning driver settings. If driver settings need to be adjusted for rare and difficult documents, our preview function allows scan operators to see their adjustments in real-time without time consuming re-scans. PaperStream IP works with both ISIS and TWAIN applications.
Batch scanning, validate and confirm the document content
PaperStream Capture makes advanced capture with Fujitsu scanners easier than before. PaperStream Capture has a streamlined User Interface to reduce training time and increase productivity. Not only have we provided users with the most common profiles used by customers-black and white, color, and auto-color-new profiles are easily created or modified through a wizard. We have organized the release screen so that batches can easily be suspended or continued. PaperStream Capture is also integrated with PaperStream IP's assisted scanning for visual cleanup of documents. The reading of barcodes and patch codes make document separation easy, improving document organization.
Utilizes advanced optional capture software
A high-quality, front end scanning software, PaperStream Capture Pro enhances Fujitsu fi Series' superior scanning abilities with an improved feature set that includes options for high level data extraction and indexing, the import of electronic images, and support for multi-station licensing. PaperStream Capture Pro offers cost-effective improvement tools such as PaperStream IP for optimized image capture. As a distributed capture model, this scanner software captures your data without added costs and resources. This solution benefits organizations and departments that require an efficient yet easy way to convert paper documents into a digital file for high level data indexing and extraction. Improve records management processes and drive down business expenses with PaperStream Capture Pro.
Centralized Efficiency
Whether the infrastructure is fixed or expanding, managing technology efficiently inside the organization is key to reducing total cost of ownership and the Fujitsu scanner provides system administrators with advanced software tools to centrally manage the scanner more productively and cost effectively.
Agent, console and server remote scanner management
Real-time Fujitsu scanner inventory
Status and alert monitoring
Centralized driver update deployment
Consumable management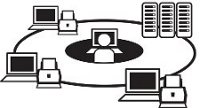 High-impact scanning, low environmental impact
In keeping with Fujitsu's long-standing commitment to safeguarding the environment, the fi-6800 is the latest business scanner to adhere to strictest ecological regulations throughout the entire manufacturing process. The design and manufacture of the fi-6800 meet Energy Star's energy consumption requirements and the European Union's Reduction of Hazardous Substances and Volatile Organic Compounds regulations.
Specifications
Model
fi-6800
Functional Specifications
Image Sensor Type
Color CCD (Charge-coupled device) x 2 (front x 1, back x 1)
Output Resolution
Color (24-bit), Grayscale (8-bit), Monochrome (1-bit) (1))
50 to 600 dpi, 1200 dpi (2)(3)
Halftone Patterns
4 Dither Patterns and error diffusion
Grayscale
10-bit/1,024 level (internal), 8-bit/256 level (output)
Color
24-bit single pass color
Scanning speeds
(200 or 300 dpi, Letter, Color, Grayscale and Monochrome) (4)
Output
Simplex
Duplex
Portrait (5)
100 ppm (6) Color/Greyscale
200 ppm (6) Color/Greyscale
Landscape (5)
130 ppm (6)
260 ppm (6)
Scanning Mode
Simplex and Duplex
Document Feeding Mode
Automatic document feeder (ADF)
ADF Capacity (7)
500 Sheets (A4: 80 g/m² or 20 lb.)
Expected Daily Volume
110,000 Sheets
Document Size
ADF Minimum
A8 Portrait (52 mm x 74 mm or 2 in. x 3 in.)
ADF Maximum
A3 Portrait (297 mm x 420 mm or 11.7 in. x 16.5 in.), Double letter (279.4 mm x 431.8 mm or 11 in. x 17 in.)
Interface (8)(9)
Ultra Wide SCSI, USB2.0/USB1.1(Selectable)
JPEG Compression
Hardware real time JPEG compression available
Physical Specifications
Power Requirements (auto-switching)
100 to 240 VAC, 50/60 Hz
Power Consumption
200 W or less
Operating Environment
Temperature
15 ° C to 35 ° C (59 ° F to 95 ° F)
Relative Humidity
20 % to 80 % (non-condensing)
Not operating: 8 % to 95 %
Dimensions (HxWxD) (10)
460 mm x 430 mm x 310 mm (18.1 in. x 16.9 in. x 12.2 in.)
Weight
32 kg (70.5 lb)
Inbox Contents
AC cable, USB cable, Setup DVD-ROM
Bundled Software
(DVD format)
PaperStream IP driver (TWAIN/TWAIN x64/ISIS), WIA Driver (11), PaperStream Capture, 2D Barcode for PaperStream (12), Software Operation Panel, Error Recovery Guide, Scanner Central Admin
Environment Compatibility
ENERGY STAR® / RoHS
Options
Post Imprinter (Front-side) and Post Imprinter (Back-side), PaperStream Capture Pro
OS Support
Windows® 10 (13), Windows® 8.1, Windows® 7, Windows Server® 2019, Windows Server® 2016, Windows Server® 2012 R2, Windows Server® 2012, Windows Server® 2008 R2, Windows Server® 2008 (14)
Features
Ultrasonic Intelligent MultiFeed Function Double Feed Detection (3x) and Long Document Scanning (15)
Maximum output resolutions may vary, depending upon the size of the area being scanned and whether the scanner is scanning in simplex or duplex.

Selectable maximum density may vary depending on the length of the scanned document.

Some limitations may apply to the size of documents that can be scanned, depending on system environment, when scanning at high resolution (over 600 dpi).

Intel® Core™ i5 desktop processor 2.5 GHz or higher, 4 GB RAM is recommended.

Actual scanning speeds are affected by data transmission and software processing times.

Indicated speeds are from using JPEG compression.

Maximum capacity depends on paper weight and may vary.

SCSI and USB 2.0 interfaces cannot be used simultaneously.

Incapable of simultaneously connecting individual interface cables to multiple computers.

Excluding the ADF hopper.

Functions equivalent to those offered by PaperStream IP may not be available with the WIA Driver.

Software can be downloaded from the website designated in the Setup DVD-ROM.

fi Series scanners do not run with Windows® 10 ARM-based PCs.

Requires PaperStream IP 2.2.0 or earlier.

Capable of scanning documents that exceed A4 sheets in length. However, the scanning of documents that exceed 863 mm (34 in.) in length will be limited to using 300 dpi or less.
Accessories
Part Number
Description
Consumables
Pick Roller
PA03575-K011
Every 600,000 sheets or one year
Separator Roller
PA03575-K012
Every 600,000 sheets or one year
Brake Roller
PA03575-K013
Every 600,000 sheets or one year
Print Cartridge
CA00050-0262
4,000,000 printed characters or 6 months after opening the bag
Options
Post-Imprinter (FI-680PRF)
PA03575-D201
Front-side printing on document
Post-Imprinter (FI-680PRB)
PA03575-D203
Back-side printing on document
PaperStream Capture Pro Scan Station (MV)
PA43404-A695
PaperStream Capture Pro optional license
Warranty
Find out the details about your product's warranty and information on how to extend your warranty.
Warranty Information
(Worldwide)