Image Scanner Software Scanner Central Admin
Overview
Versatile software for efficient multiple scanners management
Scanner Central Admin is software that enables the centralized management of multiple scanners to update scanner settings and firmware. Providing two types of applications: the server-client application called Scanner Central Admin Server and the desktop application called Scanner Central Admin Desktop*, it enhances workflow efficiency of your work operations.
This versatile software significantly reduces the cost and effort of setting and maintaining large numbers of scanners. It is ideal for organizations that utilize scanners on a large scale and require additional scanners as they expand their businesses to new locations.
Efficient installation and update of a large volume of scanners in multiple locations
Real-time monitoring of operating status
Easy management and maintenance of multiple scanners
*Please refer to the Specifications tab for compatible scanners.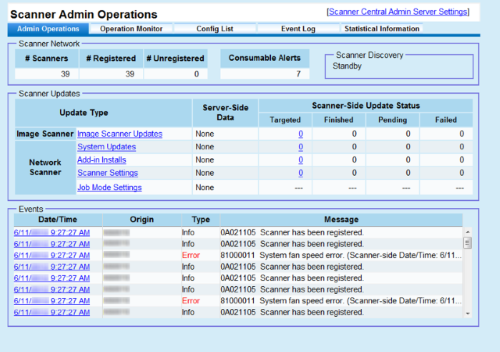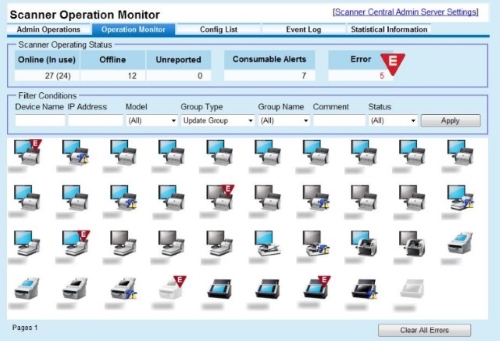 Scanner Central Admin Server Features
Improved efficiency by managing multiple scanners through one software
Main features of the Scanner Central Admin application include installing and updating software and drivers, updating and migrating settings, and monitoring/managing scanners over the network in real time.
Installing and updating scanners
Easily install and update drivers, essential software and settings for multiple scanners at a time with this function. This is especially useful when introducing a large number of scanners in multiple places, where installing each scanner one by one in each place would be very time-consuming.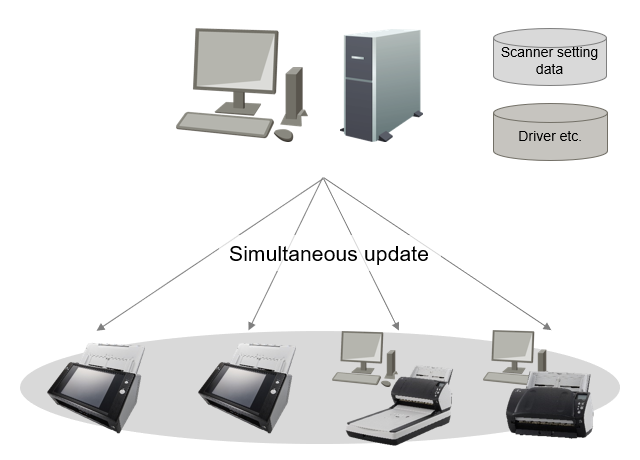 Monitoring scanners during operation
Conveniently check the current operating status of any scanner from one console. This function enables administrators to monitor the status of every scanner in the network in real time, and be notified when an error occurs or when a consumable part needs replacement. This ensures that the scanning environment is always maintained comfortable for all operators.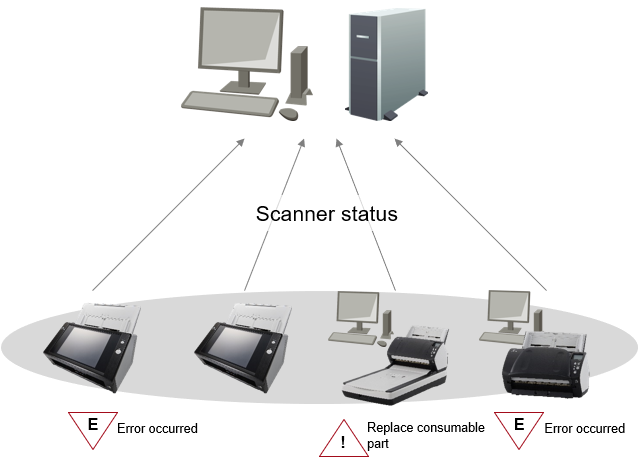 Managing scanners
The Scanner Central Admin Console makes it possible to manage up to 1,000 scanners over a network with scanner information such as model name, system, firmware, and driver version that is automatically registered to the application when connected to the network. The grouping capability of this application helps administrators manage certain scanners as a group, for instance by department, which may require unique settings for specific jobs. With this application, administrators can procure consumables depending on the usage of each scanner, update software at an appropriate timing, and optimize scanner placement.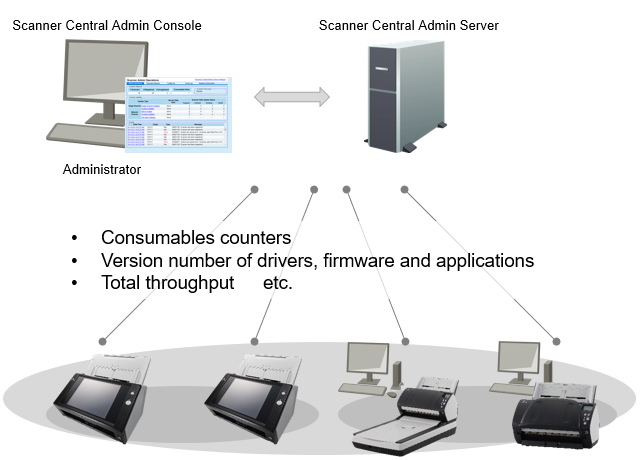 Setting Migration
The Scanner Central Admin allows administrators to share user-specific scan settings and data, and customized scan jobs across multiple scanners, eliminating the hassle of adjusting settings for each scanner.
*This function is available for N7100.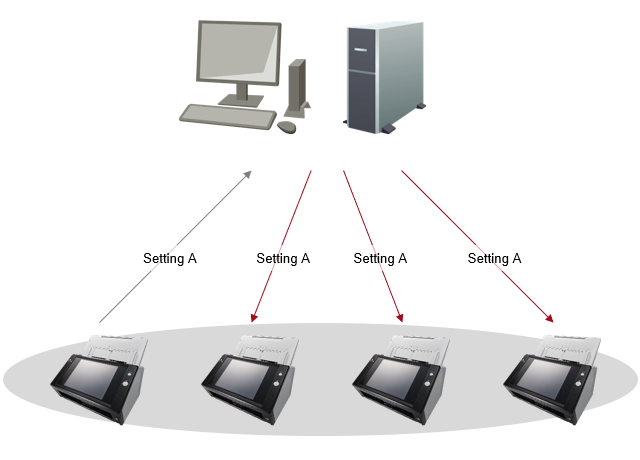 *To use Scanner Central Admin on Windows, you need to purchase a CAL (Client Access License). For details about Client Access Licenses, please contact Microsoft.
Scanner Central Admin Desktop Features
Efficient management of multiple scanners through network
Scanner Central Admin Desktop is desktop application software that enables central management of scanners without a server.
Administrators are able to register and set up multiple scanners at one time through network, as well as monitor operating status*. They can schedule their convenient time to distribute the DirectScan function settings and firmware update, which is helpful for the administrators.
*Up to 100 scanners can be centrally managed.
Increased usability with intuitive interface
Scanner Central Admin Desktop is designed as a much simpler interface, navigating administrators to do the following steps more easily. Even when some errors occur on the scanners, the administrators are able to check an error on the Event Log tab of the application and directly jump to the page associated with the error in Error Recovery Guide*. It helps save time for them to look up a required page from the table of contents.
*Error Recovery Guide needs to be installed in advance.

Supported Models
Product Name
Scanner Central Admin Server
Scanner Central Admin Console /
Scanner Central Admin Agent
Scanner Central Admin Desktop
Supported Scanners
Workgroup
fi-8040/fi-70F/fi-8170/fi-8270/fi-8150/fi-8250/fi-7300NX/fi-800R/SP-1130N/SP-1125N/SP-1120N/SP-1425/N7100E
fi-8040
Departmental
fi-8190/fi-8290/fi-7480/fi-7460
NA
Production
fi-7900/fi-7800/fi-7700/fi-7700S/fi-7600
NA
Discontinued
fi-7030/fi-7180/fi-7280/fi-7160/fi-7260/fi-7140/fi-7240/fi-65F/SP-1130/SP-1125/SP-1120/fi-6110/fi-6140Z/fi-6240Z/fi-6130Z/fi-6230Z/fi-5530C2/fi-5950/fi-6800/fi-6400/fi-6770(A)/fi-6750S/fi-6670(A)/N7100/

fi-6010N

/N1800/SP30/SP30F/SP25
NA
Supported Operating System*
Windows Server® 2022, Windows Server® 2019, Windows Server® 2016
Windows® 10, Windows® 11, Windows Server® 2022, Windows Server® 2019, Windows Server® 2016
Windows® 10, Windows® 11, Windows Server® 2022, Windows Server® 2019, Windows Server® 2016
| | |
| --- | --- |
| * | To use Scanner Central Admin on Windows, you need to purchase a CAL (Client Access License), except when using Scanner Central Admin Desktop. |