New release of mobile application for ScanSnap
- ScanSnap Home (for mobile)
PFU Limited (hereinafter "PFU"), under the direction of President and Representative Director Seiji Murakami, today, launches a new mobile application for ScanSnap, ScanSnap Home (for mobile).
ScanSnap Home (for mobile) is a new application that allows you to use ScanSnap directly from your smartphone. Now, anyone with a smartphone can take quick and easy scans at higher quality than with the camera application, and can use the scan data in a variety of ways, like sharing it with friends and family through a messenger app or attaching it to a business email, all without starting up a PC.
ScanSnap Home (for mobile) integrates the functions of the existing mobile application "ScanSnap Connect Application" and the ScanSnap Cloud App for setting up "ScanSnap Cloud", a service that enables direct connection from scanners to cloud storage. Users can scan and configure cloud settings with a more user-friendly and intuitive user interface. This first edition supports languages such as English, German, French, Italian, and Spanish and is released in countries where ScanSnap Cloud is available.(1)
The scan data transfer function from the existing mobile application "ScanSnap Connect Application" will be available in an update in August 2023.(2) (3)
In the future, there will be a series of updates that will allow ScanSnap to be used completely without a PC by providing functions currently available only on PC. This will include creating searchable PDFs, merging the front and back images of bi-folded A3 documents, advanced image processing functions such as correcting photos, a profile function that allows users to quickly switch between different scanning settings, and Chromebook support. In addition, we plan to support five more languages (Portuguese, Russian, Simplified Chinese, Traditional Chinese, and Korean) in future updates.
Join us in using new ScanSnap Home (for mobile)!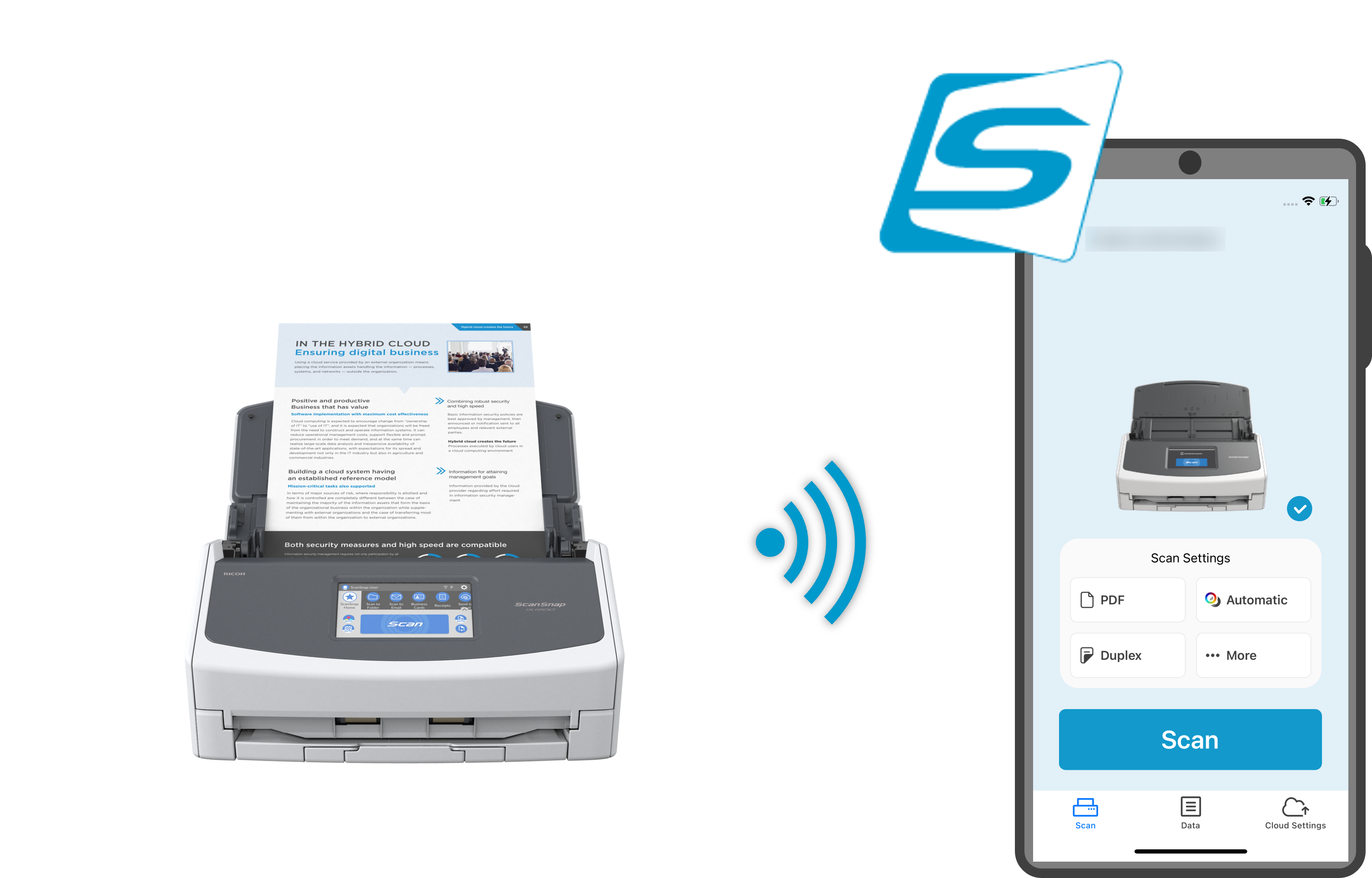 Two applications integrated, with a new, intuitive UI
The user interface has been redesigned. The current scan settings can be seen at a glance and setting changes can be made intuitively from the main screen.
Link up with your regular chat applications, messages, and other social network applications by tapping on the share icon on your smartphone device. Share data with family and friends with just a few taps on your smartphone.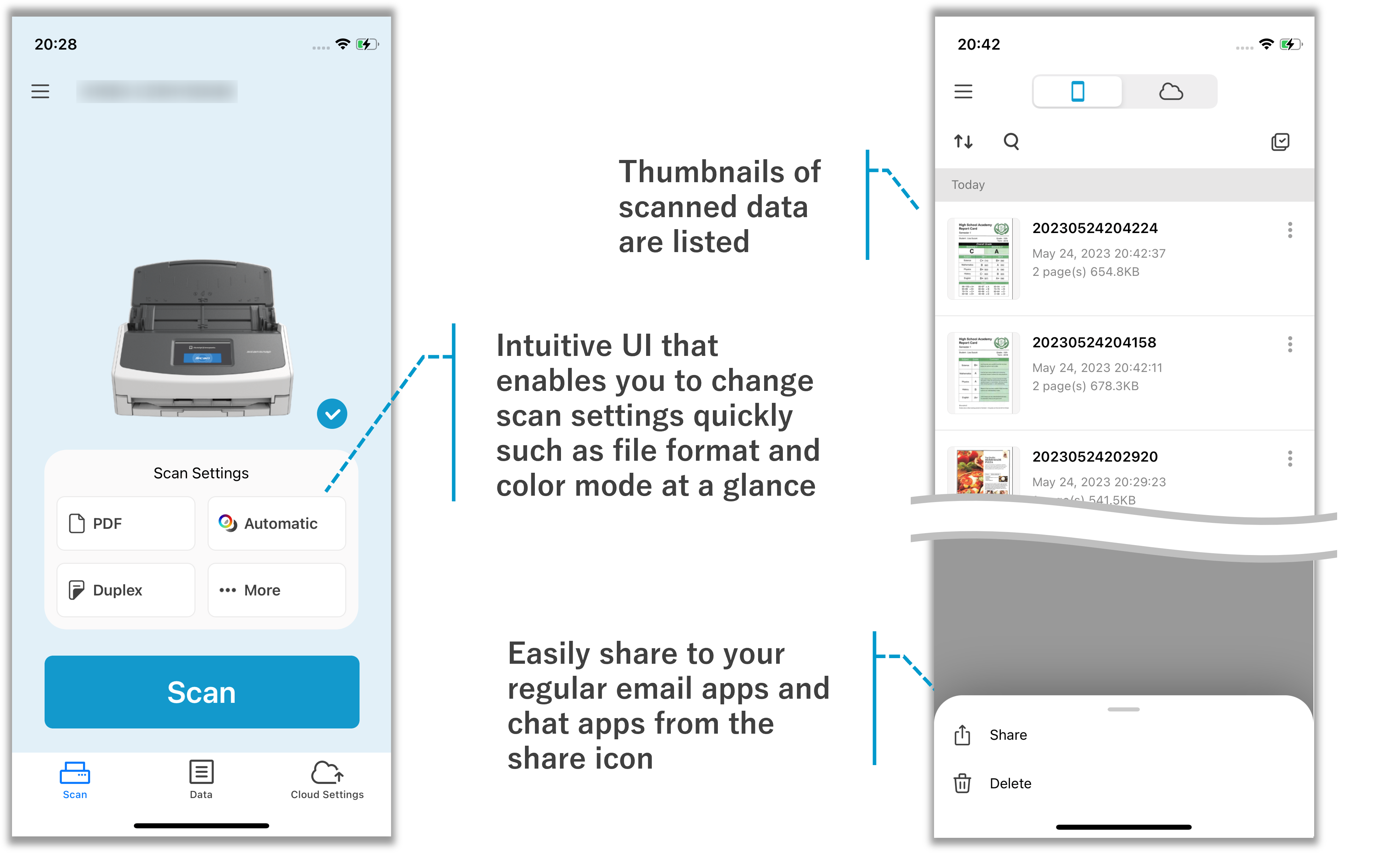 In addition, the ScanSnap Cloud settings function is integrated. By logging in with your ScanSnap account and specifying the cloud service you are using, you can save scanned data directly from ScanSnap to the cloud service you have set up.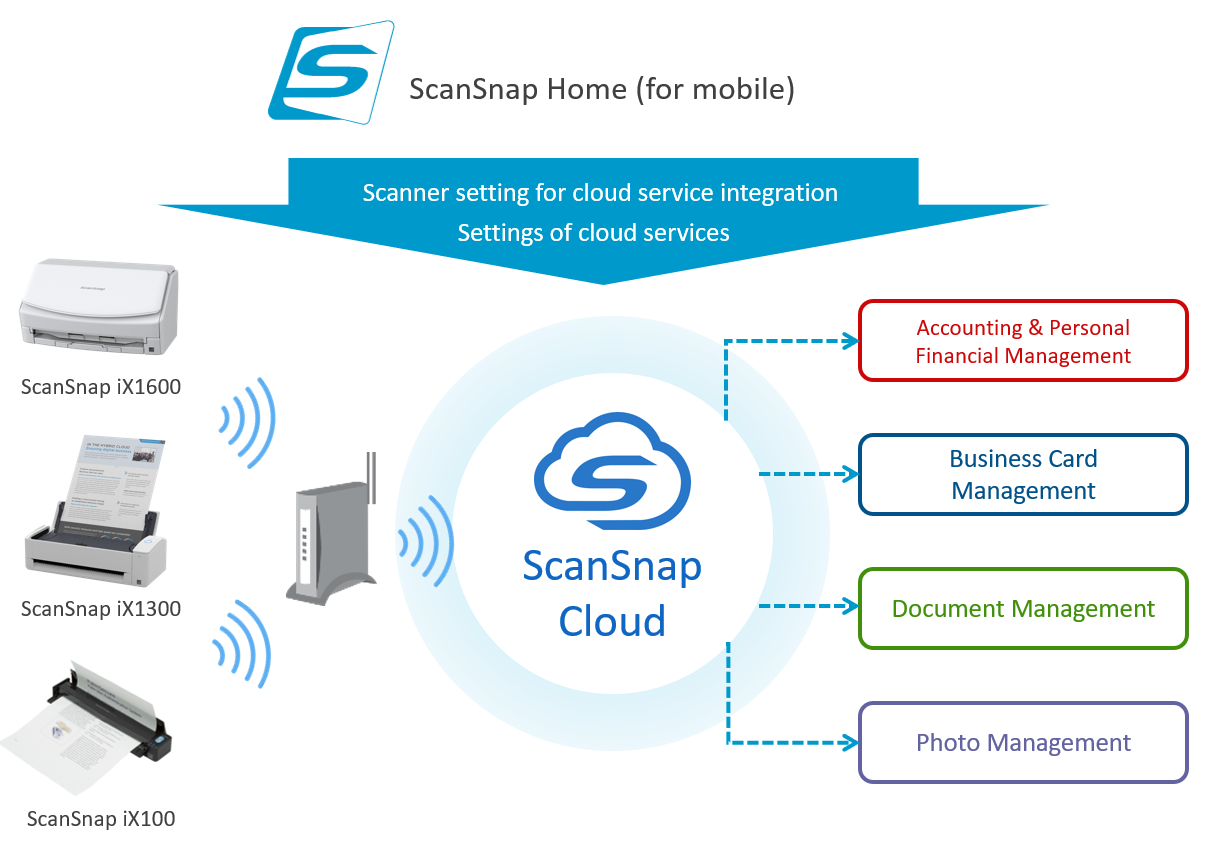 * Log in with your ScanSnap account to use your existing ScanSnap Cloud settings.
Operating Environment, How to Download
Supported Scanners

iX1600
Wi-Fi supported /
Desktop

iX1300
Wi-Fi supported /
Personal

iX100
Wi-Fi supported /
Mobile

*Available for the discontinued model, ScanSnap iX1500
Supported OS
iOS 15 or later / iPadOS 15 or later / Android 9 or later
Supported Languages
English, German, French, Italian, Spanish
Download
AppStore, Google Play
About PFU
Since its founding in 1960, PFU has been headquartered in Ishikawa, Japan and expanding its business globally. In 2022, PFU joined the Ricoh Group. Based on the technologies cultivated through computer development, we provide a total range of IT-related products and services, including hardware such as image scanners and embedded computers, security and document management software and services, IT infrastructure building, and multi-vendor services in partnership with other companies.
For more information, please visit https://www.pfu.ricoh.com/global/
About Ricoh
Ricoh is a leading provider of integrated digital services and print and imaging solutions designed to support digital transformation of workplaces and optimize business performance.
Headquartered in Tokyo, Ricoh's global operation reaches customers in approximately 200 countries and regions, supported by cultivated knowledge, technologies, and organizational capabilities nurtured over its 85-year history. In the financial year ended March 2023, Ricoh Group had worldwide sales of 2,134 billion yen (approx. 16.0 billion USD).
It is Ricoh's mission and vision to empower individuals to find Fulfillment through Work by understanding and transforming how people work so we can unleash their potential and creativity to realize a sustainable future.
For further information, please visit www.ricoh.com
###
Notes
Trademarks
・ScanSnap is a registered trademark or trademark of PFU LIMITED in Japan.
・App Store is a service marks of Apple Inc., registered in the U.S. and other countries.
・Google, Google Play and Android are trademarks or registered trademarks of Google LLC.
・iPad and iPhone are trademarks of Apple Inc., registered in the U.S. and other countries.
・Wi-Fi is a trademark of the Wi-Fi Alliance.
・Product names and company names are the registered trademarks or trademarks of the respective companies.
* The information contained in this press release is accurate as of the date of publishing. Please understand that this information is subject to change without notice.