ScanSnap Home (for mobile)
Initiating an update for seamless PC-free operation of ScanSnap
Today, under the direction of President and Representative Director Seiji Murakami, PFU Limited (hereinafter "PFU") released an update to its new mobile application for ScanSnap, ScanSnap Home (for mobile).
This latest update marks the first step towards achieving seamless PC-free ScanSnap functionality. It is the first in a series of planned updates, introducing support for individual cloud linkages and email transmission settings for ScanSnap models equipped with a touch screen. Previously, such configurations required adjustments using a PC application. This update also introduces official support for Chromebook.
Furthermore, ongoing updates to ScanSnap Home (for mobile) are planned to ensure the effortless utilization of ScanSnap in a PC-free environment moving forward. We aim to offer various PC functions for use on mobile devices. In January 2024, support for automatic orientation correction will be introduced; and by spring 2024, we will introduce support for creating searchable PDFs and automatic file name generation based on document content. Subsequently, support will be implemented for merging the front and back images of bi-folded A3 documents, along with the addition of photo correction features. All this will allow users to take full advantage of ScanSnap's convenient features on their smartphones and tablets, eliminating the requirement for a PC. Stay tuned for upcoming updates!
In time, ScanSnap will seamlessly bridge the gap between locations and devices, uniting the analog and digital realms to offer a lifestyle that is both intelligent and comfortable.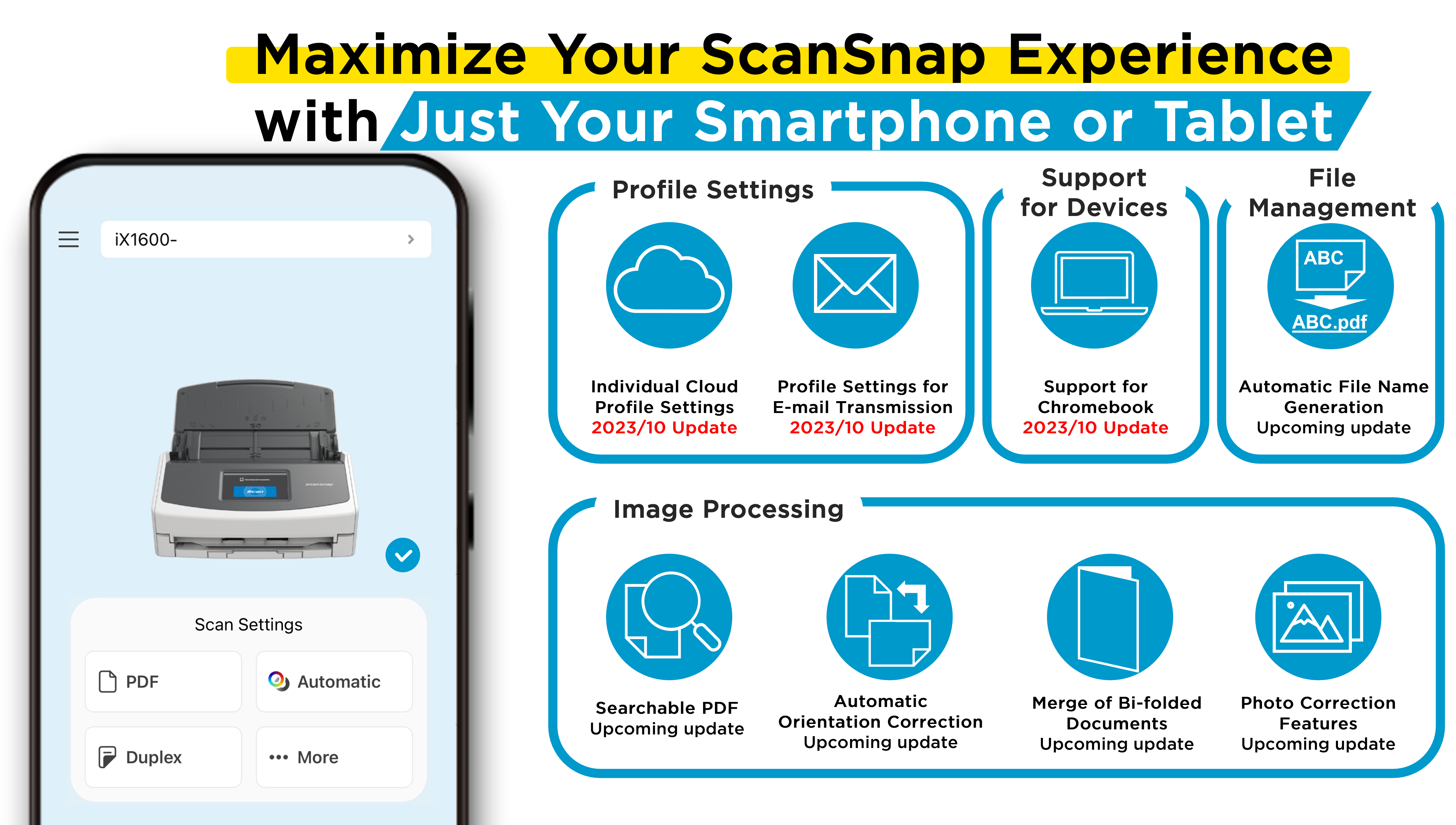 Content update scheduled for October 31, 2023
1. Simple ScanSnap Cloud Setup for Enhanced Convenience for ScanSnap iX1600/iX1500
Previously exclusive to the PC version of ScanSnap Home, individual cloud-saving settings for ScanSnap models equipped with a touch screen can now be accessed and configured from the mobile version of ScanSnap Home.
Until now, the ScanSnap Cloud settings on the mobile app only allowed users to assign a destination cloud service based on four document types or to set a single cloud service as the destination. This update enables users of ScanSnap equipped with a touch screen (ScanSnap iX1600 or iX1500) to set multiple icons with any cloud service as the destination directly from the mobile app.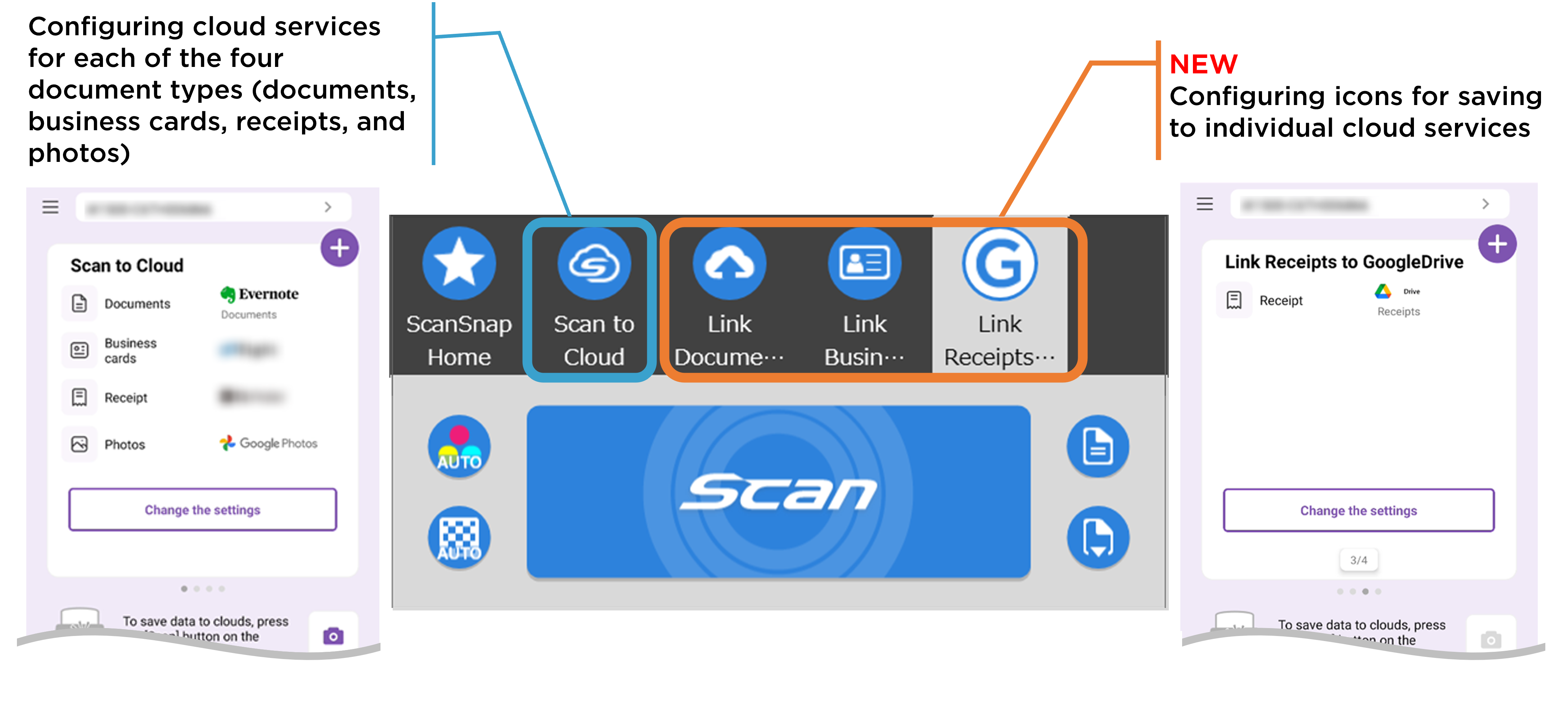 Additionally, you can now configure the setting that allows scanned data to be sent via email directly from the touch screen using ScanSnap Home (for mobile). On the touch screen of your smartphone or tablet, set an icon and register any recipient's email address to that icon. Once the icon is set, you can effortlessly send scanned documents via email without the need to open a smartphone or tablet. Simply select the icon and perform the scan.
You can now customize icons such as "Send to Dropbox" and "Send to Google Drive" from your smartphone or tablet, just as you would on a PC. This allows you to fully leverage ScanSnap equipped with a touch screen in a mobile environment.
2. Use of ScanSnap on Chromebook
ScanSnap Home (for mobile) is now officially compatible with Chromebook, featuring a user interface that adjusts seamlessly to fit the screen size of Chromebook(1).
You can now conveniently use ScanSnap on Chromebook, a device recognized for its quick startup and excellent security. Chromebooks are commonly utilized in educational settings and chosen as a first-time PC for such reasons.



Upcoming updates
<Update scheduled for January 2024>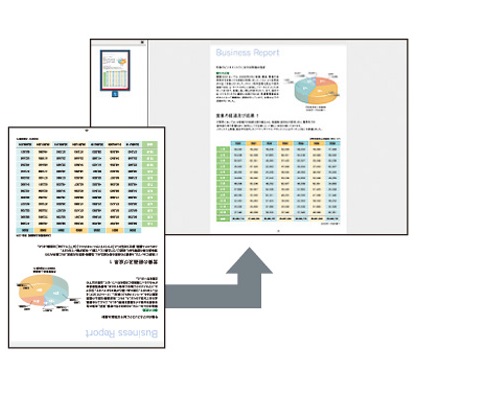 ●Automatic orientation correction will be supported, allowing even upside-down documents to be scanned to your smartphone in the correct orientation.
A feature that automatically recognizes and corrects the vertical and horizontal orientation of original documents will be available in a mobile environment.
This feature allows scanned documents to be saved in the correct orientation when using a smartphone or tablet, regardless of the orientation of the loaded documents.
<Update scheduled for spring 2024>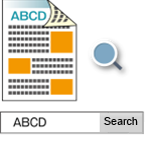 ●Support for creating searchable PDFs
Creating searchable PDFs, currently supported exclusively when saving to a PC or a cloud service via ScanSnap Cloud, will be possible when saving to a smartphone or tablet as well.
This feature facilitates keyword searches by recognizing text within the document, enabling a swift and efficient document retrieval process.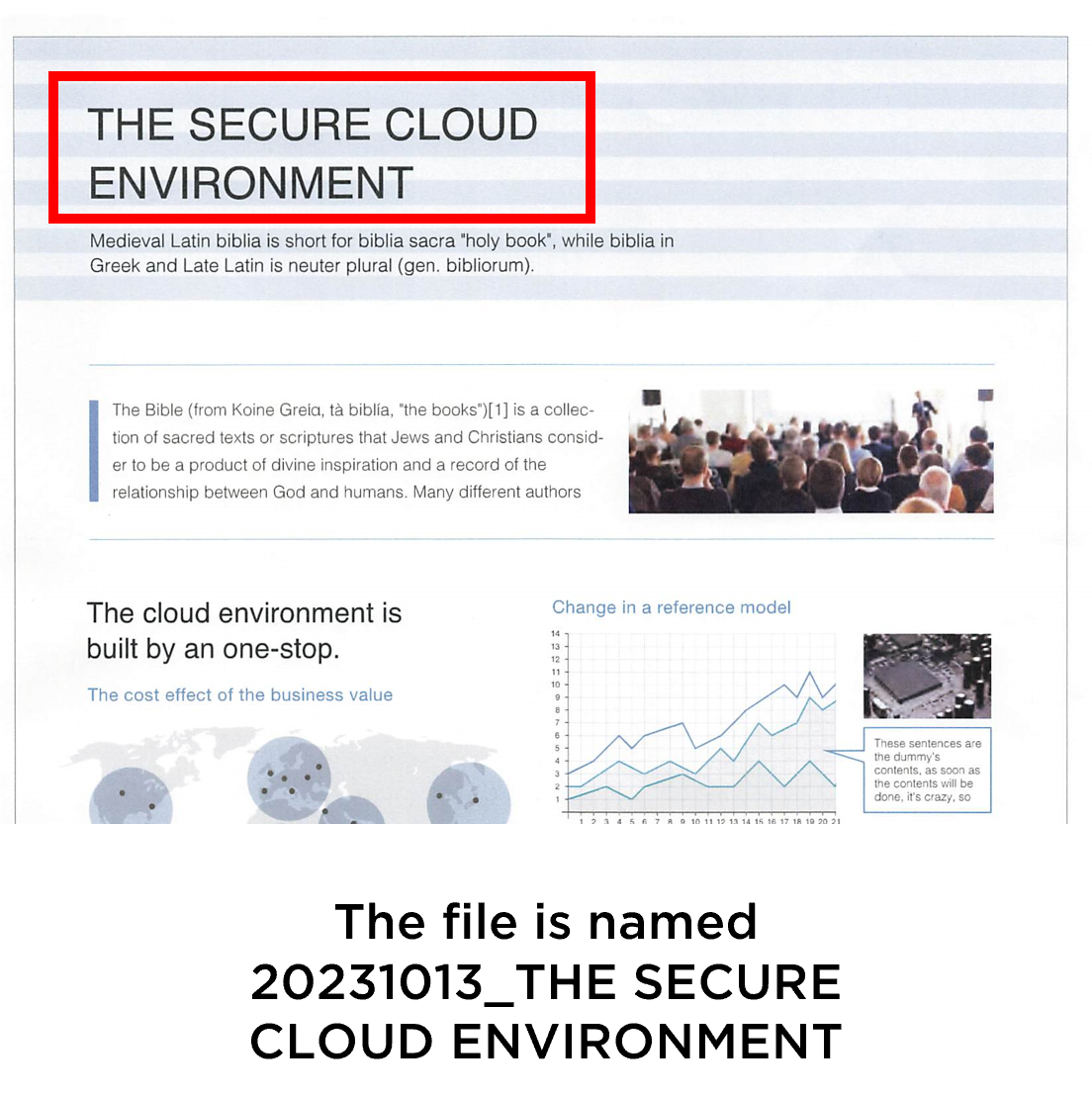 ●Support for automatic file name generation
A feature that recognizes character strings in documents and automatically generates file names will also be available on smartphones and tablets. This feature allows the content of the scanned document to be incorporated into the file name, simplifying the identification of the desired file in the list.
<Other planned future updates>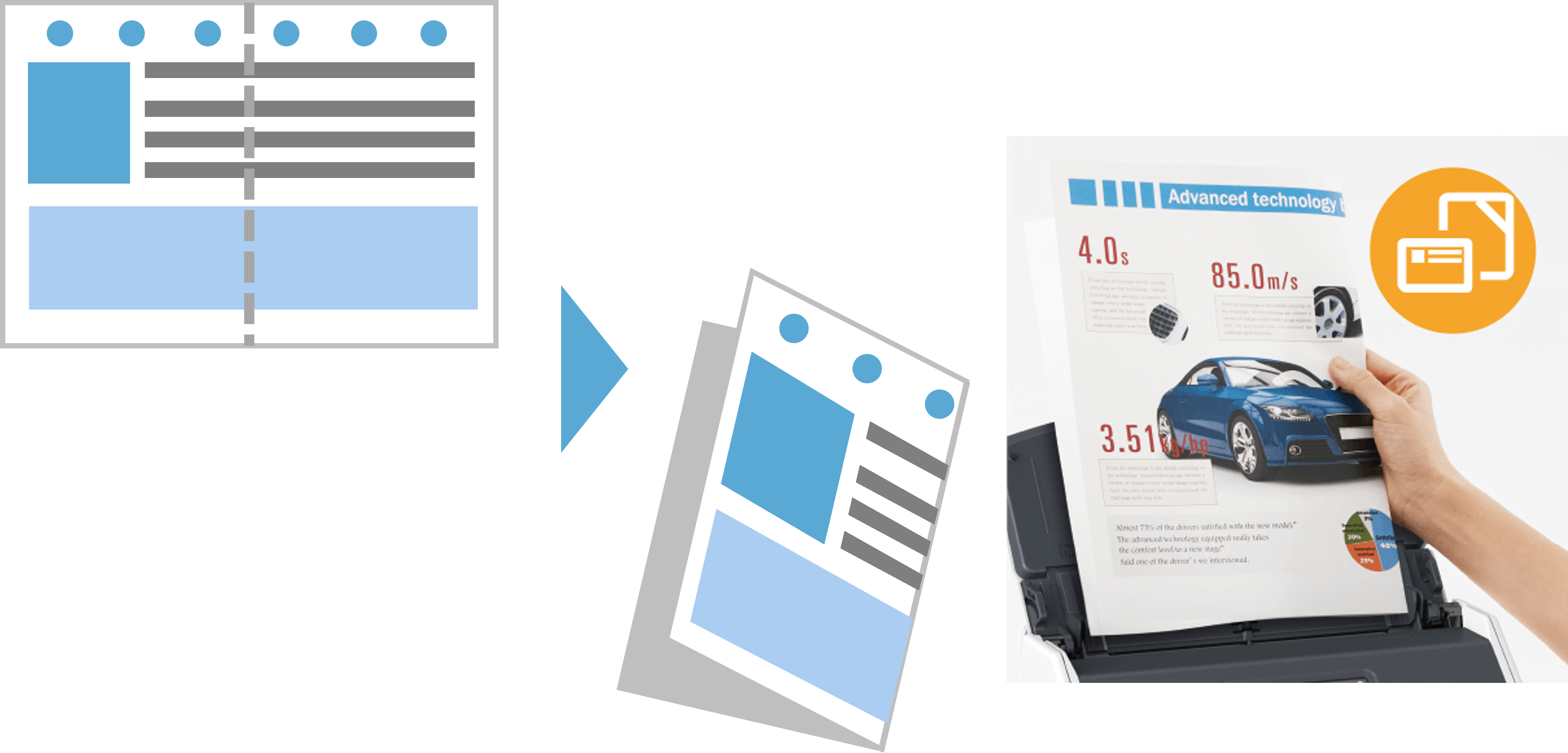 ●Support for front and back merging of bi-folded documents (A3, B4)
The front and back merging function, which combines the front and back sides of a large document such as A3 or B4 when folded in half and scanned, will also be available on smartphones and tablets.
●Support for photo correction features
The following photo functions will be available on smartphones and tablets: automatic rotation based on facial recognition, adjustments for optimal brightness and contrast in photos, fading correction for photos degraded by sunlight, and removal of red-eye effect from flash photography.
Operating Environment, How to Download
Supported Scanners

iX1600 / iX1500

iX1300

iX100


*Not available for iX500, a discontinued product.
Supported OS
iOS 15 or later / iPad OS 15 or later / Android 9 or later / ChromeOS 115.0.5790.182 or later
Supported Languages
English, German, French, Italian, Spanish
Download
AppStore:
https://apps.apple.com/app/scansnap-home/id6447339688?mt=8


Google Play:
https://play.google.com/store/apps/details?id=com.ricoh.pfu.scansnaphome
About the existing mobile apps
The existing mobile apps, ScanSnap Connect Application and ScanSnap Cloud App are scheduled to be discontinued around August 2024.
About PFU
Since its founding in 1960, PFU has been headquartered in Ishikawa, Japan and expanding its business globally. In 2022, PFU joined the Ricoh Group. Based on the technologies cultivated through computer development, we provide a total range of IT-related products and services, including hardware such as image scanners and embedded computers, security and document management software and services, IT infrastructure building, and multi-vendor services in partnership with other companies.
For more information, please visit https://www.pfu.ricoh.com/global/
About Ricoh
Ricoh is a leading provider of integrated digital services and print and imaging solutions designed to support digital transformation of workplaces, workspaces and optimize business performance.
Headquartered in Tokyo, Ricoh's global operation reaches customers in approximately 200 countries and regions, supported by cultivated knowledge, technologies, and organizational capabilities nurtured over its 85-year history. In the financial year ended March 2023, Ricoh Group had worldwide sales of 2,134 billion yen (approx. 16.0 billion USD).
It is Ricoh's mission and vision to empower individuals to find Fulfillment through Work by understanding and transforming how people work so we can unleash their potential and creativity to realize a sustainable future.
For further information, please visit www.ricoh.com
Notes
(1)

UI optimization for devices with larger screen sizes, such as tablets other than Chromebooks, will be supported in future updates.
Trademarks
• ScanSnap is a registered trademark or trademark of PFU LIMITED in Japan.
• App Store is a service mark of Apple Inc., registered in the U.S. and other countries.
• Android, Chromebook, Google Drive, and Google Play are trademarks or registered trademarks of Google LLC.
• iPad and iPhone are trademarks of Apple Inc., registered in the U.S. and other countries.
• Wi-Fi is a trademark of the Wi-Fi Alliance.
• Product names and company names are the registered trademarks or trademarks of the respective companies.
*The information contained in this press release is accurate as of the date of publishing. Please understand that this information is subject to change without notice.