FUJITSU Image Scanner receipt
Overview
Organize expenses and simplify your life by digitizing paper receipts! ScanSnap Receipt allows you to easily scan and save receipts, and extract critical payment information. Manage and store images and information for access in the future. You can export the data in various file formats to be quickly uploaded into popular accounting and expense report software, saving time and minimizing errors.
ScanSnap Receipt is the world's first receipt software to recognize multiple currencies. Integrate with any current ScanSnap scanner model to organize your payments in different currencies, or combine it with the mobile ScanSnap iX100 and immediately file travel expenses for a truly unleashed solution.
Features
Organize receipts easily
You can use ScanSnap to scan your collection of receipts, and use ScanSnap Receipt to automatically extract information from the receipts and place it into editable fields. If the information is incorrect, you can correct it manually or try rerunning OCR on the selected area. You can easily manage and search receipts with keyword searches or sort the receipts with custom categories.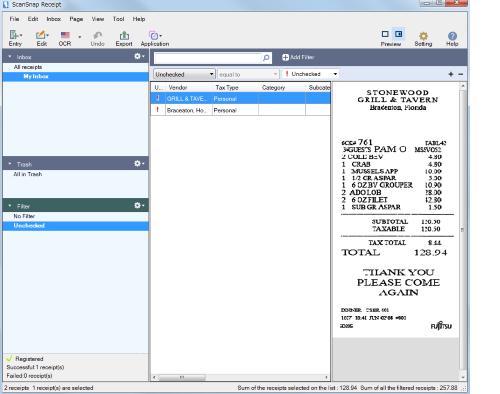 Increase efficiency with useful functions
ScanSnap Receipt can split or join receipts. Splitting receipts makes it easier to manage expense categories. Joining receipts automatically calculates the sum amount. You can rerun OCR on selected areas to correct items which were automatically entered with the initial OCR.
Automatic detection for language and currency combinations
ScanSnap Receipt detects your OS region setting and if it matches one of the 13 default country settings (combination of language and currency such as the US, "English-USD") that consist of the 9 languages and 10 currencies listed below, the country setting is automatically set. Even if your region setting does not match any of the default country settings, ScanSnap Receipt allows you to manually select your language and currency from the supported languages and currencies. For example, an English speaker in Portugal can manually set English as the language and Euro as the currency.
Supported languages: English, French, German, Italian, Spanish, Russian, Chinese (Simplified and traditional), Korean
Supported currencies: USD, CAD, GBP, EUR, RUB, AUD, SGD, CNY, TWD, KRW
Export information in the CSV format
ScanSnap Receipt, an application for both Windows and Mac, can export the receipts as individual PDFs, multiple-pages PDFs, JPEGs, or CSV files. It can organize information from scanned receipts and send the organized information to other account management applications. You can use this information for additional tasks such as reporting.

Specifications
System Requirements
Please refer to the specifications pages of each ScanSnap model.
Supported GUI languages
English, French, German, Italian, Spanish, Portuguese, Russian, Simplified Chinese, Traditional Chinese, Korean
Supported languages and currencies for Receipt OCR
Country
Language
Currency
US
English
USD (United States dollar)
Canada
English, French
CAD (Canadian dollar)
UK
English
GBP (Pound sterling)
Germany
German
EUR (Euro)
France
French
EUR
Italy
Italian
EUR
Spain
Spanish
EUR
Russia
Russian
RUB (Rouble)
Australia
English
AUD (Australian dollar)
China
Simplified Chinese
CNY (Yuan Renminbi)
Taiwan
Traditional Chinese
TWD (New Taiwan dollar)
Korea
Korean
KRW (South Korean won)
Singapore
English
SGD (Singapore dollar)
Portugal is supported for UI language(Portuguese) and currency(EUR), but not for OCR.
MXN (Mexican peso) can be selected as a currency mark.
Combinations of 9 languages and 10 currencies are also manually selectable even if the country is not listed in this table.
Even if your language and currency are not supported, you can input and manage receipts manually by selecting the currency symbol of the country.
Functions
Entry
Scan receipts with supported scanners
Newly register information on the receipt from application menu
Import existing receipt images (PDF, JPEG)
Export
Image
PDF, JPEG
Data
CSV format
Apps to work with
QuickBooks® Online (Windows® only)
QuickBooks® (Windows® only)
Supported versions of QuickBooks® are as follows:
QuickBooks Pro® 2015
QuickBooks Pro® 2014
QuickBooks Pro® 2013
QuickBooks Pro® 2012
Edit
Split selected receipt
Combine selected receipts
Rotate images
Search
Free keywords
Filter
OCR
Auto OCR
Re-OCR
OCR on selected area
Database
Backup
Restore