Magic Desktop V1.0 Update (V1.0L23)
Update Download
Magic Desktop V1.0 Update (V1.0L23)
Download "Magic Desktop V1.0 Update (V1.0L23)" by clicking and selecting

MagicDesktopV10L23wwup.exe
(139MB)
Affected Software
Magic Desktop V1.0L10, V1.0L11, V1.0L20, V1.0L21, V1.0L22
You can check the version of Magic Desktop as follows.
Start Magic Desktop and select

.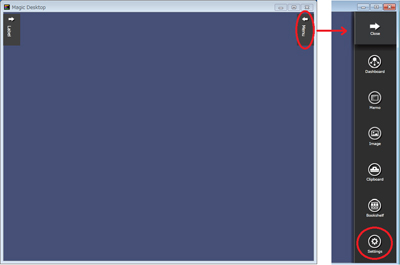 Modifications
The following modifications have been made.
Supports ScanSnap Manager V6.5, V5.5, and V4.5.
Please refer to README of Magic Desktop V1.0 Update (V1.0L23) for detail information.
Software change history



Refer to Product Manual for the new features

Operating Procedures
Online Update
Refer to

Online Update Procedure for how to online update.
Installing Magic Desktop V1.0 Update (V1.0Lxx) via the Web download.
(If your computer cannot be online updated.)
[Points to be Checked Before Installation]
Download MagicDesktopV1.0Lxxwwup.exe.
If a dialog that confirms how to handle the file appears, select [Save].
* In this case, make a note of the location in which MagicDesktopV1.0Lxxwwup.exe is saved.
Copy MagicDesktopV1.0Lxxwwup.exe to the computer to which the modifications are to be applied.
[Installation]
Log on to Windows® as a user with Administrators rights (administrative rights for the computer).
Exit all of the applications before running MagicDesktopV1.0Lxxwwup.exe.
Run MagicDesktopV1.0Lxxwwup.exe.
Refer to Installation Procedure for the procedure to use when running the file.
How to verify that update has been correctly installed
* When installation is complete, Magic Desktop is updated to V1.0L23.
Refer to

Procedure to Check if the Update is Applied for the procedure to check if it is updated to V1.0L23.
* ScanSnap, the ScanSnap logo, Rack2-Filer, and Magic Desktop are registered trademarks or trademarks of PFU Limited in Japan.

Page Top

Back to the previous page