FUJITSU Image Scanner fi-6400
Overview
The ideal blend of features and performance to maximize scanning productivity
For the paper-intensive back-office, the Fujitsu fi-6400 scanner digitizes tens of thousands of documents a day. With proven feed mechanics and high-quality image cleanup, the fi-6400 sustains a spectacular throughput, providing businesses with an exceptional ROI. As promised, Fujitsu has delivered a trusted production scanner in a quiet and compact space.
Fast, 100 ppm (simplex) / 200 ipm (duplex) scanning in monochrome or color (letter, landscape @ 300 dpi)
Space-saving design with quiet operation and many environmental friendly qualities
Easy to use operator panel with multi-language support
Triple Ultrasonic Double Feed Detection with Intelligent MultiFeed/Function and retain image feature
500-page automatic document feeder with adjustable height hopper
Scanner Central Admin Suite
Comes with 2D Barcode for PaperStream
Comes with PaperStream IP, PaperStream Capture and PaperStream Capture Pro as an option.
Maintain optimal up-time and peak performance with Fujitsu service and support

Datasheet (5.08 MB)
Features
Advanced Features to Maximize Your Productivity
Large volume hopper and high speed scanning
To boost the efficiency of large volume scanning at centralized operations, up to 500 sheets can be loaded in the hopper at a time. Together with an impressive scanning speed of 100 ppm (color, A4 size, simplex, 200/300 dpi, landscape), maximum productivity can be achieved.
Advanced feeding mechanism
The fi-6400 is capable of digitizing a variety of document types used in many scenarios from ultra-thin receipts to thick documents (20-209 g/m²). In addition, this scanner is equipped with a reliable "paper protection functions" to minimize the risk of documents being damaged even during high speed scanning.
Remarkable small design
Having a front loading feeding mechanism and low height compact design, the fi-6400 allows operators to perform scanning tasks while sitting at their desk. The scanner is designed to minimize the device's height to allow users to load and remove scanned documents with ease. This greatly reduces the stress on operators who scan for extended periods of time.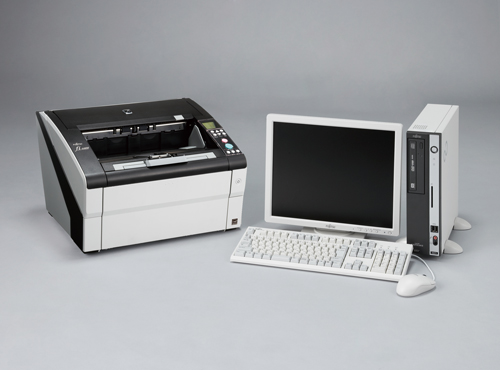 Leading Hardware Technology Paired with Expert Software
The Fujitsu fi-6400 scanner empowers scanner operators to provide efficient centralized batch scanning. The included suite of PaperStream IP, PaperStream Capture and Scanner Central Admin provides users with a powerful, efficient and easy-to-use image enhancement solution to get organizations up and scanning quickly and easily.
Automatic stacker
Automatic Stacker ensures all your scanned documents are stacked neatly after scanning.
Intelligent multifeed function
The acclaimed "Intelligent multifeed function", simplifies pre-scanning preparation and improves efficiency by allowing users to ignore false multifeed alerts caused by photos and sticky notes attached to documents.
Check scanner status and settings from an easy to navigate LCD panel
Simple and thus very sturdy construction with a wide flip-up cover for easy cleaning
Near silent running makes it perfect for office environments
Post imprinters (Front-side, Back-side) support (Option)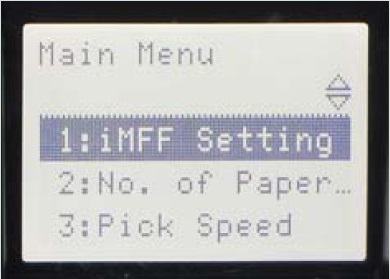 Specifications
Description
fi-6400
Supported operating systems
Windows® 10 (1), Windows® 8.1, Windows® 7, Windows Server® 2019, Windows Server® 2016, Windows Server® 2012 R2, Windows Server® 2012, Windows Server® 2008 R2, Windows Server® 2008 (2)
Scanner type
ADF (Automatic Document Feeder) + Manual Feed
Scanning modes
Simplex / Duplex, Color / Grayscale / Monochrome
Image sensor type
Color CCD (Charge-coupled device) x 2 (front x 1, back x 1)
Light source
White LED array (3)
Multifeed detection
Ultrasonic multi-feed detection sensor x 3, Paper detection sensor
Document size
Maximum
A3 Portrait (297 x 420 mm or 11.7 x 16.5 in.)
Double letter (279.4 x 431.8 mm or 11 x 17 in.)
Minimum
A8 Portrait (52 x 74 mm or 2 x 3 in.)
Long paper scanning
(Maximum) (4)
up to 3,048 mm (120in.)
Paper weight (Thickness)
Less than A5 size: 0.050 to 0.25 mm (41 to 209 g/m², or 11 to 56 lb)
A4 to A5 size: 0.025 to 0.25 mm (20 to 209 g/m², or 5.4 to 56 lb)
Over A4: 0.050 to 0.25 mm (41 to 209 g/m², or 11 to 56 lb)
Scanning speed
(A4 (Letter) Landscape) (5)
Color (6)
Simplex: 100 (100) ppm @ 200/300 dpi
Duplex: 200 (199) ipm @ 200/300 dpi
Grayscale (6)
Monochrome
Scanning speed
(A4 (Letter) Portrait) (5)
Color (6)
Simplex: 85 (87) ppm @ 200/300 dpi
Duplex: 170 (174) ipm @ 200/300 dpi
Grayscale (6)
Monochrome
ADF Capacity (7)
500 sheets (A4/Letter: 80 g/m² or 20 lb)
Background colors
White / Black (Selectable)
Optical resolution
600 dpi
Expected Daily Volume
91,000 sheets
Output
resolution (8)
Color (24-bit)
50 to 600 dpi (adjustable by 1 dpi increments), 1,200 dpi (driver) (9)
Grayscale (8-bit)
Monochrome (1-bit)
Output format
Color: 24-bit, Grayscale: 8-bit, Monochrome: 1-bit
Internal video processing
1,024 levels (10-bit)
Interface
USB2.0
Connector shape
B type
Image processing functions
Auto color detection, Automatic page size detection, De-skew, Automatic orientation, Upper lower separation, Multi-image output, Blank page skip, Error diffusion, Dither, Dropout color (R, G, B, None, White, Specified, Saturation), Image emphasis, Simplified DTC, Advanced DTC, iDTC, sRGB
Power requirements
AC 100 to 240 V ±10 %
Power consumption
Operating: 200 W or less
Sleep mode: 3.2 W or less
Auto Standby (OFF) mode: Less than 0.5 W
Operating environment
Temperature: 15 to 35 °C (59 to 95 °F)
Relative humidity: 20 to 80% (Non-condensing)
Dimensions: Width x Depth x Height (10)
460 x 430 x 310 mm (18.1 x 16.9 x 12.2 in.)
Installation space: 860 x 1,630 x 350 mm (33.8 x 64.1 x 13.7 in.)
Weight
32 kg or less
Included software / drivers
PaperStream IP driver (TWAIN/TWAIN x64/ISIS), WIA Driver (11), PaperStream Capture, 2D Barcode for PaperStream (12), Software Operation Panel, Error Recovery Guide, Scanner Central Admin
Environmental compliance
ENERGY STAR® / RoHS
Included items
AC cable, USB cable, Setup DVD-ROM
Options
Post Imprinter (Front-side) and Post Imprinter (Back-side), PaperStream Capture Pro
fi Series scanners do not run with Windows® 10 ARM-based PCs.

Requires PaperStream IP 2.2.0 or earlier.

CLASS 1 LED PRODUCT

Capable of scanning documents that exceed A3 size in length. Documents that exceed 431.8 mm (17 in.) are limited to 400 dpi for lengths up to 863 mm (34 in.). Documents between 863 mm and 3,048 mm (120 in.) in length are limited to 300 dpi.

Actual scanning speeds are affected by data transmission and software processing times.

Indicated speeds are from using JPEG compression.

Maximum capacity depends on paper weight and may vary.

Maximum output resolutions may vary, depending upon the size of the area being scanned and whether the scanner is scanning in simplex or duplex.

Some limitations may apply to the size of documents that can be scanned, depending on system environment, when scanning at high resolution (over 600 dpi).

Excludes the ADF hopper.

Functions equivalent to those offered by PaperStream IP may not be available with the WIA Driver.

Software can be downloaded from the website designated in the Setup DVD-ROM.
Accessories
Part Number
Description
Consumables
Pick Roller
PA03575-K011
Every 600,000 sheets or one year
Separator Roller
PA03575-K012
Every 600,000 sheets or one year
Brake Roller
PA03575-K013
Every 600,000 sheets or one year
Print Cartridge
CA00050-0262
4,000,000 printed characters or 6 months after opening the bag
Options
Post-Imprinter (FI-680PRF)
PA03575-D201
Front-side printing on document
Post-Imprinter (FI-680PRB)
PA03575-D203
Back-side printing on document
PaperStream Capture Pro Scan Station (MV)
PA43404-A695
PaperStream Capture Pro optional license
Warranty
Find out the details about your product's warranty and information on how to extend your warranty.
Warranty Information
(Worldwide)