RICOH SP-1425
Overview
Versatile scanning dedicated for business use in limited spaces
The SP-1425 is an A4-compatible ADF scanner equipped with a flatbed. Designed to be placed in limited spaces, the scanner delivers simple operation and reliable performance.
Comfortable scanning speeds of 25 ppm/50 ipm
Versatile scanning with both flatbed and ADF
Compact and user-friendly design
Comes with PaperStream IP for SP Series and PaperStream Capture Lite providing advanced image processing functions
Various software available for better data management
PaperStream ClickScan also available for ad-hoc use to scan in 3 simple steps

Datasheet (230 KB)
Features
Great scanning performance for improved productivity
The ADF scanner with flatbed provides stable paper feeding and excellent usability to boost user productivity.
Scan quickly with the ADF
With ADF use, the scanner achieves scanning speeds of 25 ppm/50 ipm (A4 portrait, color 200 dpi/300 dpi). Its duplex scanning mode function increases the speed of scanning multiple documents.
Scan various documents with a single scanner
Equipped with the ADF and flatbed, the scanner can scan a variety of documents ranging from regular batches to plastic cards. It can also scan passports, old fragile documents, and booklets with the flatbed allowing comfortable scanning.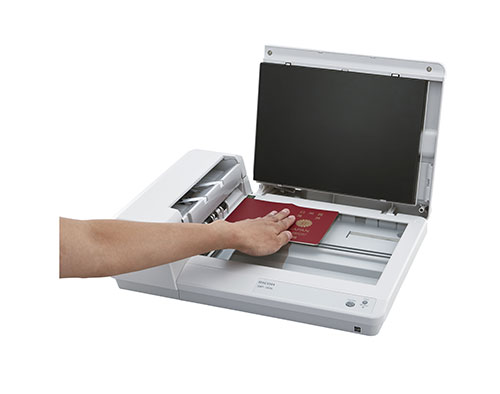 Space-saving design for limited spaces
The SP-1425's small footprint is designed to be used in all kinds of environments, including places where space is limited. It is suitable for various purposes, such as scanning documents for clerical work at an office or scanning identifications or applications at a reception desk.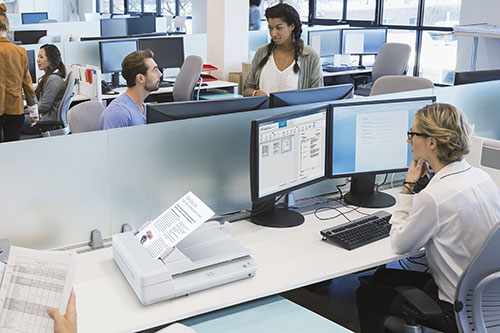 Device operation is simple with only two buttons to push, Power On/Off and Scan/Stop. Its minimal design reduces scanning procedures and human-error.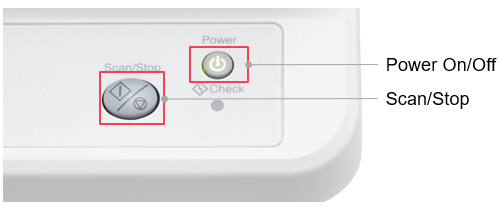 Advanced software for higher productivity
Combining multiple software with business system allows users to greatly increase work efficiency. Users can enjoy smooth scanning and utilize data efficiently with the advanced image processing features and the easy-to-understand UIs.
Optimized image data with PaperStream IP for SP Series
PaperStream IP for SP Series, the scanner driver supporting both TWAIN/ISIS, eliminates the need of making fine setting adjustments for OCR processes. It automatically converts images into exceptionally clean images, accelerating OCR even when scanning wrinkled, soiled and patterned documents.
PaperStream Capture Lite specialized in routine scans
PaperStream Capture Lite, capture software for SP Series, dramatically elevates efficiency of document capture within business workflows. By configuring and saving batch profile settings in advance, users can focus on their routine tasks such as batch scanning with its intuitive UIs and usability.
Efficient data management with Presto!™ PageManager™
Presto!™ PageManager™ turns paper documents into organized digital documents. After presetting is complete, only one push of the scan button is necessary to store document image data instantly. Users can create, write, and open PDF files without file conversion or other applications, as well as split multiple page PDF files into separate files or merge several PDF files into one. The software also makes it easy to group, store and share files.
Searchable documents made possible with ABBYY™ FineReader™ Sprint
With ABBYY™ FineReader™ Sprint, scanned data can be converted to searchable PDF or office documents such as Word/Excel® so that users can fully utilize the data in day to day work tasks.
Specifications
Product Name
SP-1425
Scanner Type
ADF (Automatic Document Feeder) / Flatbed, Duplex
Scanning Speed*1 (A4 Portrait)
(Color*2/Grayscale*2/Monochrome*3)
ADF
Simplex: 25 ppm (200/300 dpi)
Duplex: 50 ipm (200/300 dpi)
Flatbed
4 seconds (200/300 dpi)
Image Sensor Type
Single line CMOS-CIS x 2 (front / flatbed x 1, back x 1)
Light Source
3 Color LED x 2 (front / flatbed x 1, back x 1)
Optical Resolution
600 dpi
Output Resolution*4
(Color / Grayscale / Monochrome)
50 to 600 dpi (adjustable by 1 dpi increments), 1,200 dpi (driver)*5
Output Format*6
Color: 24-bit, Grayscale: 8-bit, Monochrome: 1-bit
Background Colors
ADF: White, Flatbed: Black
Document Size (ADF)
Maximum
216 x 356 mm (8.5 x 14 in.)
Minimum
114 x 140 mm (4.5 x 5.5 in.)
Long Page Scanning*7
3,048 mm (120 in.)
Document Size (Flatbed)
Maximum
216 x 297 mm (8.5 x 11.7 in.)
Paper Weight (Thickness)*8
52 to 127 g/m2 (14 to 34 lb)
ADF Capacity*9
50 sheets (A4 80 g/m2 or Letter 20 lb)
Expected Daily Volume*10
4,000 sheets
Multifeed Detection
Overlap detection (Ultrasonic sensor)
Interface*11
USB 2.0 / USB 1.1
Power Requirements
AC 100 to 240 V ±10 %
Power Consumption
Operating Mode
16 W or less
Sleep Mode
2.9 W or less
Auto Standby (Off) Mode
0.5 W or less
Operating Environment
Temperature
5 to 35 °C (41 to 95 °F)
Relative Humidity
20 to 80% (non-condensing)
Environmental Compliance
ENERGY STAR®, RoHS
Dimensions*12 (W x D x H)
454 x 331 x 129 mm (17.9 x 13 x 5.1 in.)
Weight
4.3 kg (9.5 lb)
Supported Operating System
Windows® 11*13, Windows® 10*13, Windows Server® 2022, Windows Server® 2019, Windows Server® 2016, Linux (Ubuntu)
Software / Drivers
PaperStream IP for SP Series (TWAIN/TWAIN x64/ISIS), WIA Driver*14, Image Scanner Driver for Linux (SANE)*14*15, PaperStream Capture Lite*16, PaperStream ClickScan*15, Software Operation Panel, Error Recovery Guide, Scanner Central Admin Server, ABBYY™ FineReader Sprint™*16, Presto!™ PageManager™*16
Image Processing Functions
Multi image output, Automatic color detection, Automatic page size detection, Blank page detection, Dynamic threshold (iDTC), Advanced DTC, SDTC, Error diffusion, Dither, De-Screen, Emphasis, Dropout color (None/Red/Green/Blue/White/Saturation/Custom), sRGB output, Split image, De-Skew, Edge filler, Vertical streaks reduction, Digital endorser, Background pattern removal
Included Items
Pad unit, AC cable, AC adapter, USB cable, Setup DVD-ROM
Scanning speeds may vary due to the system environment. The values shown are the results of the evaluation under the following environment:

Windows® 10/CPU: Intel® Core™ i3-10105 3.7GHz/Memory: 8GB/Storage: SSD

Indicated speeds are from using JPEG compression.

Indicated speeds are from using TIFF CCITT Group 4 compression.

Selectable maximum resolution may vary depending on the length of the scanned document.

Limitations may apply to the size of documents that can be scanned, depending on system environment, when scanning at high resolution (over 600 dpi).

Color depth indicates levels after driver processing.

Supports documents with lengths of up to 3,048 mm (120 in.) when resolutions are set to 200 dpi or less.

Paper weight limitations only apply when using the ADF. There are no limitations when using the flatbed.

Maximum capacity depends on paper weight and may vary.

Numbers are calculated using scanning speeds and typical hours of scanner use, and are not meant to guarantee daily volume or unit durability.

Scanning speeds slow down when using USB 1.1.

Excludes the ADF paper chute and stacker.

SP Series scanners do not run with Windows® 11 and 10 ARM-based PCs.

Functions equivalent to those offered by PaperStream IP may not be available with the Image Scanner Driver for Linux or WIA Driver.

Refer to the

SP Series Support Site

for driver/software downloads and full lineup of all supported operating system versions.

Operation on Windows Server® OS is not supported.
Accessories
Part Number
Description
Consumables
Pad Unit
PA03753-0001
Every 30,000 sheets or one year
Pick Roller Unit
PA03753-0002
Every 200,000 sheets or one year
Options
PaperStream Capture for SP Series
PA43201-2502
PaperStream Capture optional license
PaperStream Capture Pro
Scan Station (WG)
PA43404-A665
PaperStream Capture Pro optional license
Warranty
Find out the details about your product's warranty and information on how to extend your warranty.
Warranty Information
(Worldwide)